Just over a month ago, I claimed Ford Motor Company (F) was a gem of an opportunity hidden in plain sight. Since then, the stock has appreciated more than 30% as a result of a few positive developments, and the findings of this follow-up research confirm that this could just be the beginning of a historic turnaround. Investors might not be late to invest in Ford's turnaround story.
Ford stock price
For the decade ended in 2020, Ford struggled to gather any momentum from a financial performance perspective, and the Covid-19 pandemic did not help the legacy automaker's fortunes as well. Ford stock, as a result, has massively underperformed the SP 500 Index in the last 10 years, which does not come as a surprise.
Exhibit 1: 10-year price return comparison between Ford stock and the SP 500 Index

Ford stock, however, is up 150% in the last 12 months, and 72% in 2021 so far. The more recent rally that resulted in Ford stock appreciating from around $11 to its current price of over $15 came on the back of a few promising developments.
Ford unveiled the F-150 Lightning model at a live event on May 19, and CEO Jim Farley tweeted on May 21 that the company had received more than 44,000 reservations for the all-electric truck in the first 48 hours since launch.
Ford signed an MoU with SK Innovation to create a joint venture to manufacture batteries.
At the Ford Capital Markets Day event on May 26, the company announced a plan to prioritize its electrification strategy with a view of generating 40% of annual sales from the sale of EVs by 2030.
Ford revealed the Blue Oval Intelligence platform at the Capital Markets Day event as well, which is aimed at attracting tech-savvy consumers. Technological innovation was not part of Ford's strategy for many years, but the company is finally turning the tables by catering to the growing demands of tech-savvy consumers.
Ford has been making headlines over the last couple of months for good reasons, and there seems to be momentum behind its stock in the market. Before reaching any investment decisions, however, an investor needs to evaluate whether the improving sentiment toward the company is justifiable.
Is it too late to buy Ford stock?
Even before the pandemic wreaked havoc, Ford was struggling to grow revenue consistently. With a noticeable increase in demand for electric vehicles, Ford found it difficult to gain an edge over its competitors because of the significant delay in embracing this new reality. It would be fair to say that some investors had given up hope on Ford turning the tables around, but CEO Jim Farley has been quick to introduce some much-needed changes since he was appointed CEO last October.
Ford stock is up 150% in the last 12 months. The company's new look coupled with the broad market recovery helped Ford stock in this period, and many investors seem to be questioning whether the stock has already got ahead of the company. To determine whether it's already too late to invest in Ford, we need to find answers to 3 important questions.
Ford's electrification push - How successful will it be?
This is a very difficult question to answer, but the success of the electrification strategy could turn out to be the most important piece of the puzzle in the next decade.
What we already know is that Ford is playing catch-up. If we take a look at Tesla, Inc. (TSLA), the company is years ahead of Ford from an innovation perspective, and Tesla has made a name for itself as the best-in-class electric vehicle company. I'm not ready to underestimate the importance of brand value here. Even if we compare Ford's efforts with that of legacy European vehicle manufacturers such as Volkswagen AG (OTCPK:VWAGY), it would be reasonable to conclude that Ford needs to cover some ground quickly to retain its market share in Europe. What we also know is that the U.S. is Ford's most important market. Consumer purchasing habits in the United States coupled with Ford's electrification push paint a very promising picture for what the future holds for the company.
Ford might lack many things in comparison to its peers, but there is no lack of consumer trust toward Ford vehicles. Ford F-Series has been the best-selling vehicle in the United States for 39 consecutive years through 2020, and I don't think an investor needs to look beyond that to understand the brand value and trust associated with Ford. Although Ford is playing catch-up with its electrification strategy, the expected launch of F-150 Lightning in mid-2022 could go a long way in helping the company bridge the gap for 2 reasons.
Americans love SUVs and trucks (9 out of 10 best-selling vehicles in the U.S. in 2020 were SUVs or trucks), in complete contrast to European markets where compact cars are much more popular than trucks.
There is a lack of options available for American consumers when it comes to EV pick-up trucks and SUVs, and this will remain an issue through mid-2022 as the likes of Tesla and other EV manufacturers have failed to tap into this opportunity just yet.
The timing of the F-150 Lightning is optimal for Ford to use the massive popularity of its F-Series vehicles to gain traction with its electrification strategy, and the company will not be playing catch-up when it comes to competing in the EV trucks category. Ford has already sold more than 10,000 Mustang Mach-E units in 2021, and the most interesting development is that the majority of these vehicles were sold to first-time customers.
Exhibit 2: Ford sales report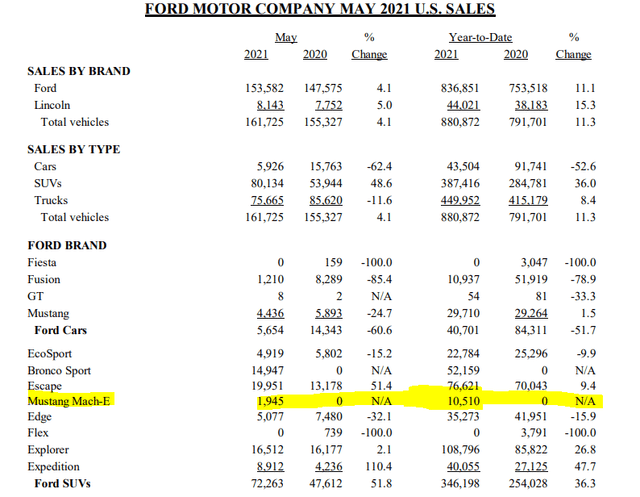 In addition to F-Series trucks, Ford is planning to electrify many of its popular models, which I believe will be a catalyst in helping the company quickly gain traction in the EV market. Ford's brand value and customer loyalty will be the key success drivers in my opinion, and I believe the company is moving in the right direction with its electrification plans.
Will Ford reinstate the dividend?
Ford has always been a darling of dividend investors, and the decision to suspend the quarterly dividend of 15 cents per share last year did not bode well for income investors. That being said, I believe Ford did the right thing to cut the dividend as preserving liquidity should always come ahead of shareholder distributions.
Although vehicle sales have recovered, I would rather prefer Ford to reinvest earnings back in the business considering the fact that the company is in the middle of a transformation. My investing strategy has never been about fighting the market. I take Mr. Market's actions at the face value and try to exploit opportunities when they are presented. Despite wanting Ford to preserve cash and reinvest earnings back in the business, I believe Ford's valuation multiples will meaningfully expand if the company reinstates the dividend. A dividend announcement will signal that the company is out of the waters and that the management team is confident about future prospects. Commenting on the company's stance on dividends at the Annual Shareholder Meeting in May, Ford Executive Chair William Clay Ford Jr. said:
Total shareholder return remains a priority for us, and we will look to reinstate the dividend as soon as practical.
"As soon as practical", in my opinion, would be when the chip shortage is dealt with and production reaches normal levels, by which time the economy will be moving forward at full speed. The chip shortage is projected to last 12-18 months in the base case scenario, so dividend investors might have to wait until the second half of 2022 for some positive news. When this happens, I believe it will immediately result in a permanent boost to valuation multiples. I am encouraged by the fact that all-electric Ford F-150 Lightning will hit the market in Spring 2022 as well, which should be a good time for Ford to reinstate the dividend.
Ford's current valuation - Does it make sense?
Even after a triple-digit increase in the stock price, Ford is still valued at a forward earnings multiple of just 11.34. If you take a look at EV manufacturers such as Tesla, it's apparent that Ford is very cheaply valued. However, comparing Ford to Tesla or any other EV manufacturer for that matter might not be the best way to go about business as Ford is yet to prove its ability to manufacture EVs at scale. This is why I used a discounted cash flow model to estimate the intrinsic value of Ford stock last May. Using very conservative assumptions for revenue growth in the next 5 years, I assigned Ford a 12-month price target of $21.59 per share, which implies an upside of 42% from the current market price (please check this article for assumptions used in my model).
With a transformation underway, I believe we need to remain very cautious. That being said, Ford seems to be deeply undervalued even after a strong run in the market. Once Ford moves deeper into its electrification program, I expect valuation multiples to expand permanently, thereby leading to multibagger returns in the long run.
My final verdict based on the findings of this research is that it is not too late to invest in Ford although the stock has had a nice run in the market of late.
Recent analyst actions
Tudor, Pickering, Holt Co., an investment bank based in Houston, Texas, initiated coverage of Ford in May with a "buy" rating and assigned a target price of $17 per share. Analyst Jeoffrey Lambujon wrote in a note to clients:
We are initiating coverage on Ford Motor Company with a Buy rating and $17/sh price target, driven by our constructive view on a turnaround story already well under way. As evidenced by significant improvements to EBIT margins in Q1'21, the global redesign initiatives that were announced in 2017 have been working. While this year will be negatively impacted by both commodity headwinds and the global semiconductor shortage, we are above consensus on FY'22. Our model, as well as Street consensus, continues to bake in conservatism for adjusted EBIT margins, so any additional color the company may be able to provide in reaching long-term targets may be taken constructively by shareholders. What would also make us incrementally positive is seeing more detail on (I) plans to vertically integrate battery development, (II) the sustainability of margins seen over the last few quarters, and (III) how Argo AI may compete with peers on autonomy. To these ends, a focus of the May 26 Capital Markets Day on electrification, batteries, autonomy, and connectivity, with some tie-back to long-term financial objectives, would be a positive catalyst for shares.
The analyst seems to be bullish on the company based on the expected success of the turnaround story, which aligns well with my thinking as well. I believe Ford is finally moving in the right direction by embracing new macroeconomic shifts such as the growing popularity of electric vehicles and the growing importance of customer relationships.
Evercore ISI analyst Chris McNally is bullish on Ford's prospects because of the successful launch of the F-150 Lightning truck as well. In a note to clients last month, he wrote:
Ford definitely brought a thunderous tone with a loud message of change to expand its market though investments in electric vehicles, connectivity, and autonomous driving.

 
This recent shift in the thinking among Wall Street analysts could help Ford shares as the investor sentiment is bound to improve with these positive remarks on an automaker that was thought to be struggling.
Risks of investing in Ford
The success of my investment thesis is contingent on Ford becoming a major player in the EV industry, at least in the United States. The company is in a good position to deliver on its promises, but Ford has, at times, failed to deliver on its promises despite starting things off perfectly. If the electrification strategy does not yield the desired results, investing in Ford will only lead to disappointing returns. This is the primary risk of investing in Ford.
The dual-class share structure is a risk for common shareholders as well. Shares owned by the Ford family have 36 votes per share in comparison to one vote per share for common shareholders. This dual-class structure might incentivize the management team to be short-sighted when it comes to making important business decisions, which I believe is a risk to my thesis.
Another risk of investing in Ford today is the possibility of weaker-than-expected sales in the second half of this year owing to production constraints. The chip shortage is likely to continue for a few more quarters, and the company might have to deliver more bad news from this front in the coming months.
Conclusion: is Ford stock a buy, hold, or sell now?
Ford is making steady progress with its turnaround strategy. Despite the short-term troubles resulting from the global chip shortage, I believe long-term-oriented investors should focus on the business transformation that is happening today. Investment returns will be dictated by earnings in the long run, and I'm confident that Ford will report strong earnings in the next few years as the company ramps up its investments in EVs. Ford Motor is a buy with a 12-month target price of $21.59.